It has been the longest time I feel since I posted any jewelry in this space. Not that I have not made any, but I haven't gotten around to take pictures of any of my recent work and as a result I could not post anything in this space for a fairly long time.
On a recent trip I purchased a top that has fast become one of my favorite tops. I have been wanting to make a pair of earrings to go with it but kept putting it off. Finally a couple of weeks back I managed to dig around my bead box to see if any of the beads match the top. Sure enough I found these fuchsia and purple wood beads that matched the embroidery on the top. I combined the wood beads with some spacers, and kept the design very simple. This is how it turned out.............................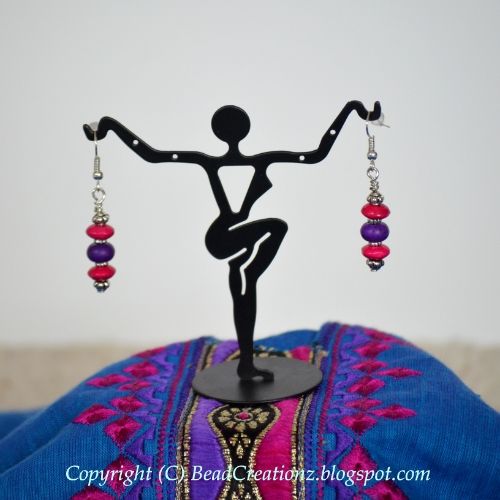 And yes, I have displayed the earrings on the embroidery portion of my top. I was really lucky I guess that I ended up having the exact same color beads to match the dress. It made it really easy for me to come up with the design for the earrings :) That's it for today but I will be back shortly with a lot more earrings and other fun stuff. Until then hope you all have a good week and a good weekend :)
Read more ...