this chrysanthemum mirror
I have been itching to try making more mirrors for our home. I came across an idea on pinterest that used the rolls from bath tissue as a flower mirror. Since I already had a flower mirror I thought of trying a sunburst mirror with the same concept. I have been saving all my kitchen tissue rolls for another project for a while now. I also had some jute rope left over from a previous project and a round cardboard that was part of some packaging that I had saved hoping to use it in some craft. Since I had all the items on hand, this project was very quick and easy. In my estimation it did not take more than a couple of hours to put together and this is how it looks..............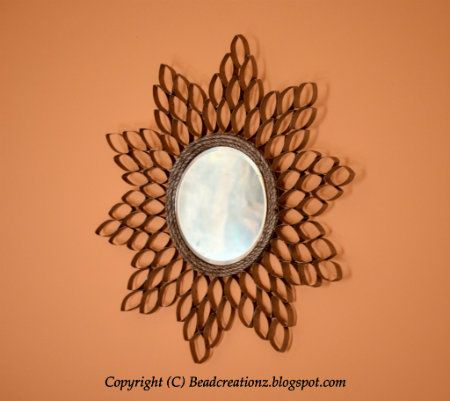 Things you will need...
an 8 inch round mirror
9 1/2 inch cardboard circle
kitchen tissue roll as needed cut into 1/2 inch "petals"
Jute rope as needed (I used 1/4 " thickness rope)
glue gun
spray paint in your color of choice
Method
First cut the kitchen tissue rolls into equal sized "petals".
Then place everything together to check out if you have everything that you need and to check arrangement and see if you need to cut some more rolls.
Next draw a circle around the circumference of the mirror to mark its place with a light pencil. Place rope around the drawn circle and cut. Glue the rope to the cardboard
Once the rope is glued all the way to form a "frame" for the mirror. Start sticking the petals to the cardboard.
Stick the second row of petals to the first row. I used a little glue on the sides to in the second row so that the petals retain their shape.
Glue a little bit or rope or a lighter jute thread at the back of the cardboard to help in hanging the piece
When done, spray paint the entire frame + petals in desired color. Finally stick the mirror in the center. Allow to dry.
Hang and enjoy :)

Ever since I attempted making