Its been a while since I tackled any home decor project. But recently I did a few that were very satisfying. Every time we decide to paint a room in our home, I end up with a lot of paint chips of the colors that we consider for the room. After selecting the paint I had been holding on to the other chips with the hope of using it in something. I have seen a lot of people make wall art with it and I always thought that might be something I would make with those chips. But I never got around to making wall art with it. The other day I picked up a few unfinished trays, hoping to paint them and use them around the house and as a prop for my
other blog
. Being a food blogger means I am constantly thinking about props for my pictures :)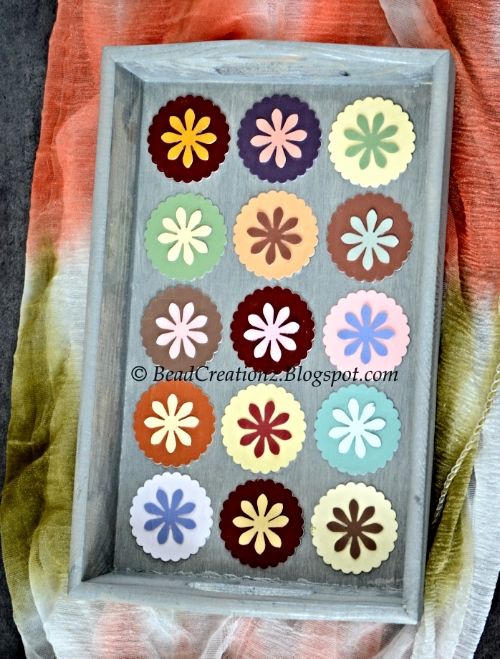 Anyway when I was thinking of what color to paint the tray, it suddenly struck me that maybe those paint chips I had saved since last year could probably be used as a design for the tray. So I got out my trusty paper punches, cut the paint chips into floral shapes, painted the tray and stuck the paper "flowers" on the tray and applied mod podge and voila..... a couple of trays :) These trays hardly took much time to put together too and I already got to use this tray as a prop for
one of my pictures
recently. Although I lot of it didn't show up in the pic, I was happy with the color of the tray, it really when with the other shades in the pic.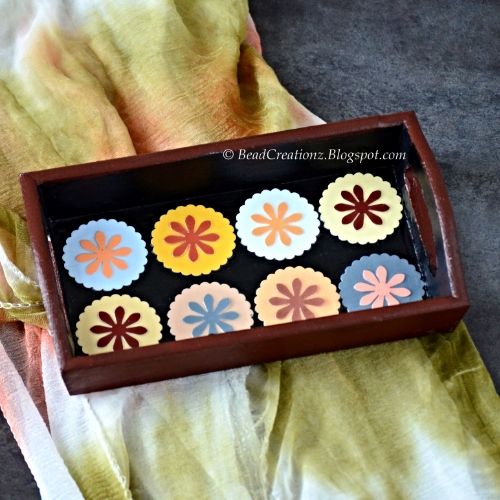 Items you will need
Unfinished wooden tray
Unused paint chips Or any colored card stock paper
Paper punches in desired shapes
I used one 1 and 1/2 inch floral and another 1 inch floral pattern.
acrylic colors in two complementary or contrasting shades (or just one color for the entire tray)
Mod podge
All purpose glue
Method
Punch the paint chips in desired shapes, or if you do not have paper punch it can be cut into different shapes too. Stick the smaller shaped paint chip on the bigger shaped one. I used contrasting colors and random combinations. Allow to dry.
Paint the unfinished tray in color or colors of choice. For one tray I painted it in a combination of gray and metallic silver. The other I used black on the inside and burnt sienna color on the outside. Allow the paint to dry thoroughly.
Apply a little mod podge on the back of the larger flower, keep aside for a few seconds and stick to the inside of the tray. Continue on till the design is complete. Allow to dry.